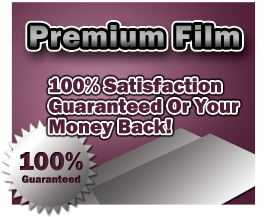 I want you to read this entire page and find out all of the reasons you should buy your imagesetting film from us, including our guarantee, but let me cut to the chase and give you a brief overview:
Our film prices are so good, that in spite of the fact that most printers are moving to CTP, our film business is still increasing.
It defies logic! The theory of supply and demand tells you that as demand for a product goes down, the price goes down – but only if supply is rising. Right now, both supply and demand for film are shrinking. That's making the price for film skyrocket!
But it's relatively stable for us – here's why:
There are only 2 film manufacturers left and we represent both of them, and we realized the rise of CTP would create this pricing issue for film so we created a buyer's group. We have been pushing to gain market share because the larger our orders, the better the pricing we get. That's why our film prices are better than anyone else out there…
… and that's why you should join us.
You see, the more customers we get, the larger the orders we place, the larger the discount, and the more stable your price can be – regardless of the fact that the price is rising sharply for everyone else. It is working! As one of the film manufacturer's largest customers, we have actually seen our film business grow from 2013 to 2014, and we are expecting to grow again in 2015. That means, as our customer, you will get the most stable film pricing possible.
Let's face it. You can't afford to needlessly pay more for supplies. Heck, even if you could afford it, would you want to?
Our prices are so good, our customers can't believe it.
We think we may be one of the only film resellers left whose business is increasing, because there is a lot of evidence to suggest that everyone else's is decreasing,or has already stopped altogether.
That means that if you are still dealing with one of the few businesses that are still selling film, because they have less business, they can't buy it from the manufacturers at the price we can, and you will have to pay a lot more for film, and the price will constantly rise. Whereas if you buy from us, because of our large and increasing purchase sizes, our prices are more affordable and stable.
In fact, if you are still using the conventional process and you buy film from anyone else, you are needlessly throwing money away.
To join us and place an order, give us a call now: (800) 793-3526

If you would like to learn more … keep reading:
Our Private Labeled Films are world class film manufactured in compliance with the standard UNI EN ISO 9002. In plain language this imagesetting film will always provide the consistent high quality needed for color separations.
It's so good, we guarantee that you will love it! Try a roll and if you aren't 100% satisfied, return it for a full refund.
If you have questions as to what spec or type of film your imagesetter uses, please do not hesitate to contact us. We can cross reference all imagesetters and film winding specifications.
Not only do we work hard to bring you great products at affordable prices, but we also endeavor to provide you with first-rate customer service. With warehouses in the North, Southeast, Midwest, and West, you can rest assured that your order will reach you in a timely manner. We will never take your business for granted and will always work hard to keep your business with every order.
Why should you purchase your imagesetting film from us?
All of our imagesetting film is high quality and meets or exceeds equipment manufacturers most stringent recommendations.
Our film manufacturers have warehouses across the country to speed shipping time and minimize shipping cost.
Most sizes available for immediate delivery.
Custom sizes and windings are manufactured and shipped days quicker than any other supplier.
Due to our volume, we have some of the lowest prices in the entire industry!
We guarantee your satisfaction with a 100% money back guarantee!
Our Guarantee to You
We know that we have the finest imagesetting film in the industry, and we make it available to you at amazingly low prices. We also know that once you try it, you won't use anything else. It's that good!
Therefore, we encourage you to try a roll. If you are not 100% completely satisfied, then return the unused portion of the film roll for a full refund!
Just know – No one has ever returned a roll.
Why?
Because our imagesetting film really is superior. In fact, if you are accustomed to  buying high end film, the only difference you will notice is a lower price.
To Learn More Now!
If you would like to learn more, simply fill out the form to the left and we will contact you as soon as possible. Alternatively, you can call  toll free (800) 793-3526 and let us know your needs. We would be pleased to help you!
At DEI, our number 1 goal is to make it easy for you!
…our film orders always arrive on time on our doorstep and are exactly as we ordered them. The people at DEI Systems are easy to work with and very helpful.
Alice Gooding
Recco International, Inc.
I've been ordering film, chemistry, and plates from DEI Systems for 3 or 4 years now. Their prices and quality are very competitive. They know me, get my order right and deliver when they say they will – the next day on my film orders.
Scott Schmid
Preferred Printing Services
Price, service and quality is why I've been ordering film from DEI Systems for over 10 years. Plus I get great technical help whenever I need it.
Huntington Beach, CA
We have been purchasing film from DEI Systems for about 6 months and are extremely happy. I email my order to DEI, get a confirmation and my order arrives correct and on time – not at all like our previous vendors who would send incorrect orders that would take up to 3 weeks to receive.
Lesa
The News-Gazette
We order film, plates and chemistry from DEI Systems. Over the past 10 years, the price has stayed competitive, our orders are accurate and we enjoy doing business with them, they're great.
Kelly
Ravellette Publication / The Pioneer Review
We buy all of our film and chemistry from DEI. In the 3 years we have been ordering from DEI we never have to worry about our orders being delayed or incorrect, they always arrive on time and accurate. The people at DEI are friendly and easy to work with.
Tina
Star Printing
We started buying film from DEI Systems 5 or 6 years ago because we were having trouble with the film we were getting from another supplier. From pit holes in it that light shown through to the film being too tight on the roll and wouldn't come out, we had all sorts of problems with our old supplier.
Once we moved over to DEI we never had any trouble again. They have really good quality film and they get exactly what we order to us on time.

Sammy
Adko, Inc.
I started buying film from DEI Systems 2 years ago when I realized my supplier was over charging me. The price and quality I get from DEI Systems keeps me coming back, and my orders are always right and delivered on time.
Steve
The Farmville Herald, Inc.
We've been purchasing our film, fixer and developer from DEI for the past 2 and a half years because they make it easy. Their prices are competitive, and their representatives are always extremely courteous and helpful with all our needs. I've had questions about chemicals and parts and they are quick to find a solution – even with the hard to find parts, they always find what I need.
Paul
Premier Graphics
My guys never throw up red flags with problems about DEI film – our order arrives on time and performs as it should. They follow up with me, they are kind people and we enjoy doing business with them.
Jane
Etched Media Corporation

Related Articles
Who Still Makes Imagesetting Film?
Is Imagesetting Film Going Away?
Film Prices Going Up Again – DEI Absorbing the Increase … Again
Major Price Increase On Film Coming – Our Price Stays the Same